Delivering the first of many Ultra Low Harmonic ABB ACQ580 water drives to a large water authority
November 5, 2020
Posted by:

Remtron

Category:

Automation
With greater demands being placed on electrical infrastructure, the need for grid friendly products has entered a new era.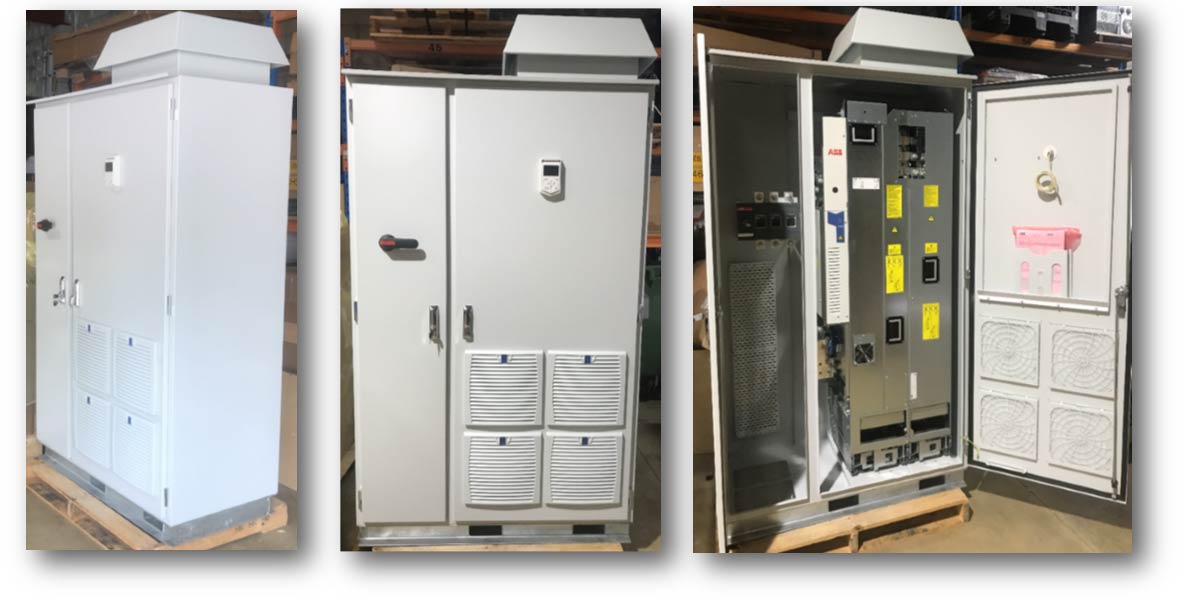 ABB Drives have released their 4th Generation Active Ultra Low Harmonic drive which now includes the Industry Specific 580 range. This makes them more affordable than ever before.
Above is the 355kW ACQ580-34-0650A-4 module mounted in a Kinetic AB12 enclosure.
ABB ULH Drives use ABB Active Front End (AFE) technology.
Boasting unity power factor under all load conditions, < 3% Total Harmonic Current Distortion and the maintaining of motor voltage under brown out conditions the new ABB Ultra Low Harmonic Drive gives the customer a three wire in, three wire out solution, unlocking greater site capacity whilst meeting their AS61000 obligations.
Remtron now stock the ABB ULH drive in the ACQ580 Water Drive range and keep several drives on the shelf offering immediate delivery for our customers.
Due to traditional lead times increasing during the COVID-19 epidemic we have turned to the -31 wall mount and -34 module both which can be airfreighted.
31 ULH wall mount drives have power ranges from 4kW to 110kW in Ip21 and Ip55.
34 ULH drive module have power ranges from 132kW and go to 355kW for larger applications.
Using the Middy's Kinetic enclosure range we can now purchase a ready-made indoor solution to take the -34 modules.
The concept is to have this solution available to all ABB drives customers and ABB Drives Channel partners, allowing them to unpack , assemble and mount the ABB drive within the enclosure with all fixings and mounting points taken care of.
The ABB hardware manual is still used in assembling the drive, but all the enclosure fabrication has now been removed, allowing for operation of the drive in a fraction of the time.
The internal wiring remains the contractors responsibility and the drive enclosure can be fitted with 1 or 2 roof fans, and various isolation components options as required.
Ambient temperature, placement of the drive in relation to isolation points and drive install size will guide which version of the product suits the customers needs.
The AB12 comes standard with the provision for an extra roof fan to be added should it be required.
The enclosure is made here in Australia, by Middy's Electrical, and represents a new level of co-operation between them and the leading drives network.
Remtron stock this product for immediate delivery. Contact us at sales@remtron.com.au